THE WHOLE POLAND SEES HERBS …
"Yesterday, despite the rain – I went on an amazing walk with herbalist Dorota. We met at 11 o'clock at the Przytoki Farm near Staniszewo and set off in search of wild herbs. The rain soon turned into beautiful sunshine, and we devoured like possessed the young shoots of trees and what I used to call 'weeds' hehe At the end we made a delicious decoction from the herbs we had collected." – wrote Kasia Bellingham of Kasia and Andrew Bellingham's Garden 'the Garden'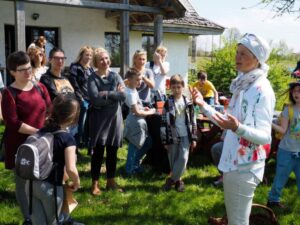 Under such a hospitable roof, Zofia Weiss welcomed the herbalists who were discovering spring herbs as part of the All Poland Sees Herbs Campaign, which Inez Herbiness Rogozinska has been initiating for several years. Despite the morning rain, undaunted by a likely shower, we set off for Kashubia. The sun gave us a surprise and lit up the time.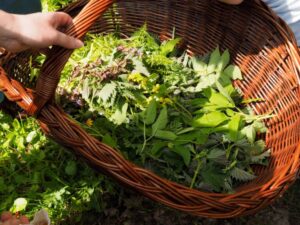 The tea came out good and plentiful, as you can see from the attached photos.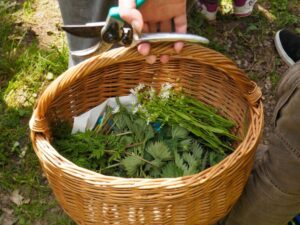 We ate and tasted plant buds, seedlings and young plants.
And then we cooked potatoes and ate them with salads and herbs. The herbal oil prepared with the harvested herbs was second to none.
And at night, during the Night Talks on Radio Gdansk, with Hania Wilczyńska-Toczko, I talked about the walk, herbs, health and many interesting things. Link to the broadcast soon 😀.
See you on the next herbal walk. You're invited.